The room in room system is a construction kit for think tanks
The room-in-room system vetroCUBE allows the creation of closed, soundproof and trapped rooms according to the room-in-room principle. These thinking cells are independent of the building structure. The room-in-room system stands freely on the surface and also just in places that are suboptimal for workplaces. It can be relocated at any time. The thinker cell does not need to be connected to the ventilation system of the building structure. It ventilates itself.
A base ring and a ceiling ring, as well as load-bearing walls, form the flexible framework for the thinker cell as a room-in-room construction. A highly sound-absorbing and sound-insulating system ceiling closes the room-in-room cell at the top. A system floor (height 50 mm) is optionally available. This offers advantages for electrification. In addition, the thinker cell no longer needs to be screwed to the floor.
Doors are preferably hinged doors. This is the only way to ensure optimal sound insulation. The all-glass doors are set in aluminum frames. The door leaf is 12 mm thick. The frames and door leaves are made ceiling-high. The room-in-room system achieves a sound insulation of 37 db for the entire construction, not just for individual assemblies.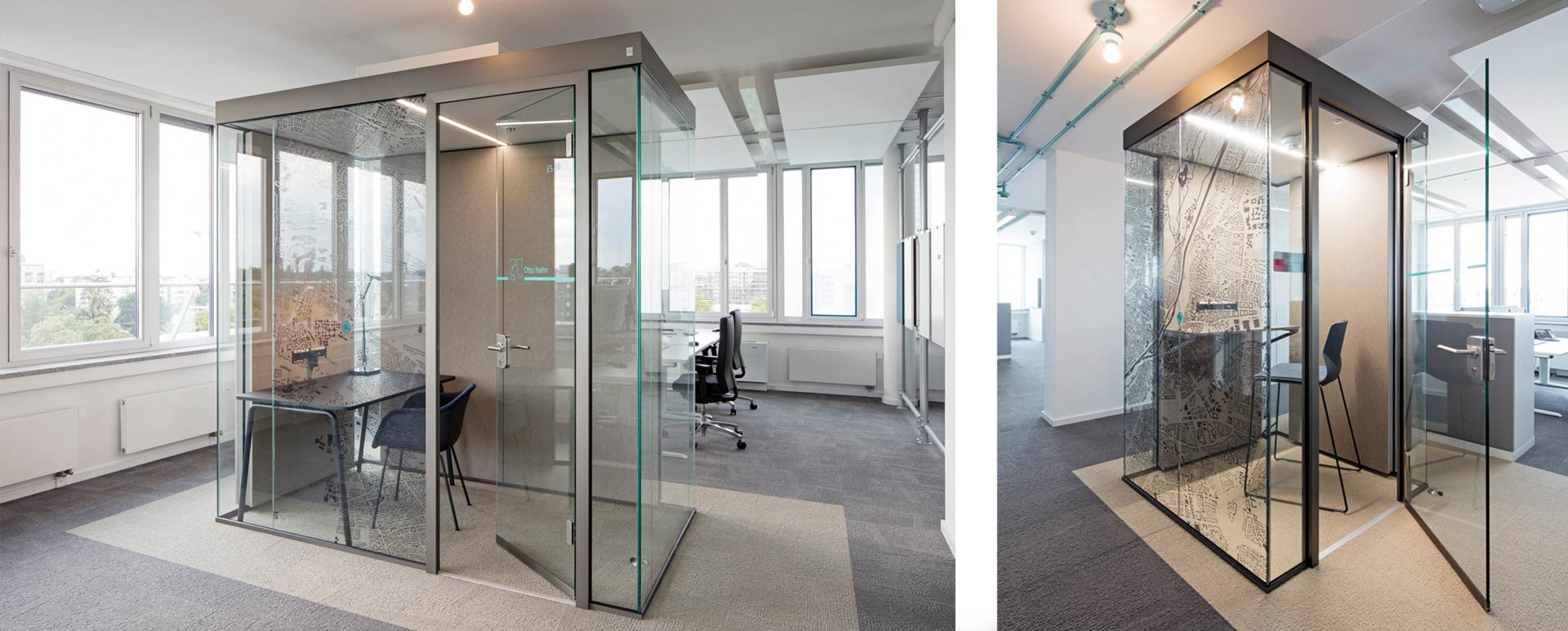 Noch sehr neu im Program ist die schalldichte Schiebetüre. Ein umlaufendes, intelligente Dichtungssystem erkennt den Öffnungszustand der Türe und schließt im geschlossenen Zustand dicht ab. Die Schalldämmung kommt der der Flügeltüre sehr nahe. Mit der schalldichten Schiebetüre für die Raum-in-Raum Konstruktion vetroCUBE bieten wir einen echten Problemlöser, auch für sehr enge Situationen an. Schließlich muss die Funktionsfläche der Flügeltür in der Planung berücksichtigt werden. Nach innen öffnende Türen brauchen größere Raum-in-Raum Einheiten. Nach außen öffnende Türen sind mit Flucht und Rettungswege abzustimmen.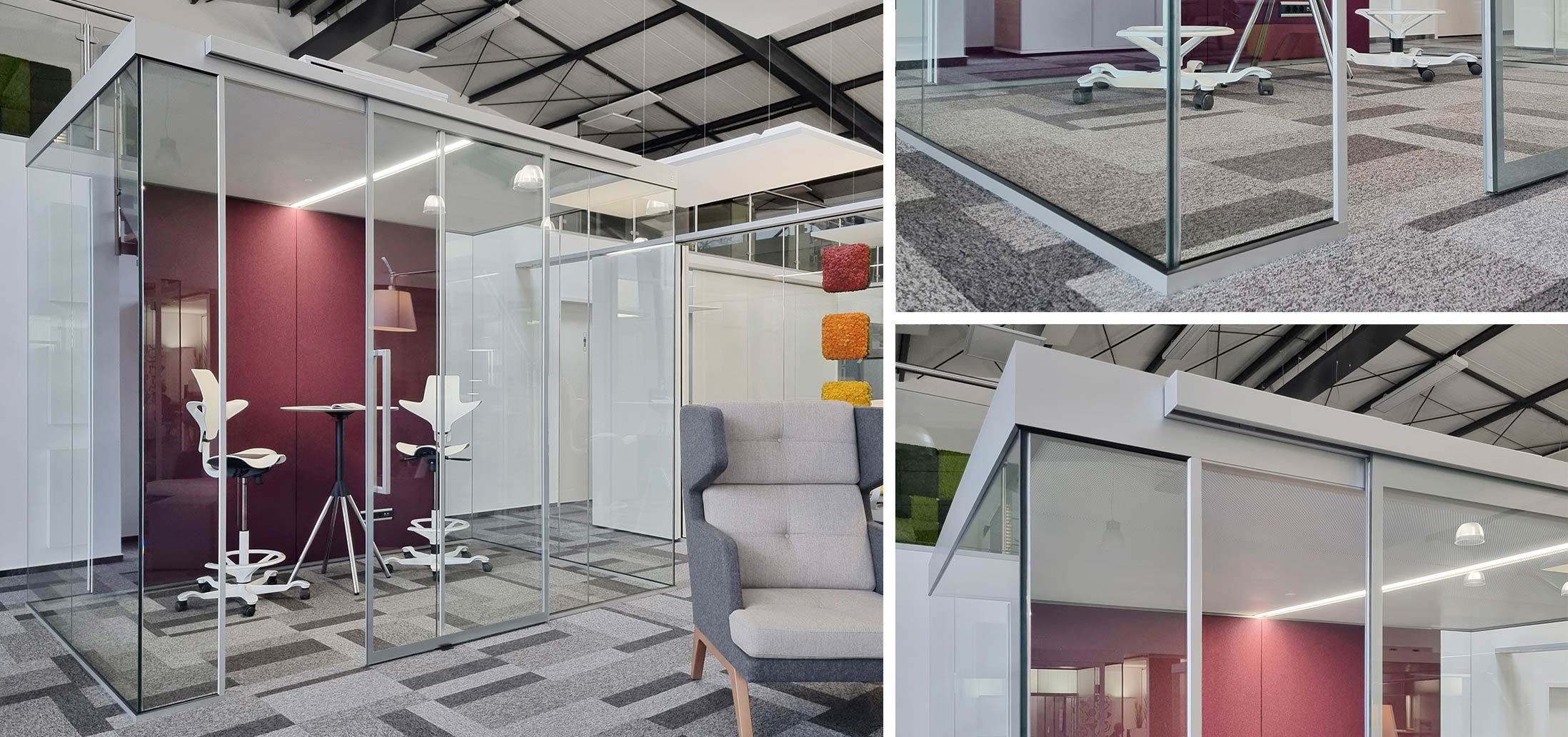 Think tank, self-supporting and self-sufficient
Barrier-free
Maintenance free
modular construction system
Room in room Principle
self-supporting and self-sufficient
multifunctional solid walls due to sandwich construction
Only glass surfaces with maximum transparency
Glass / Glass Corners
Single and double glazing
37 dB in installed condition
Room in room Construction of the think tank
The solid walls of the room in room system are sandwich constructions. Depending on the requirements, they are covered internally and externally with corresponding functional surfaces. We offer decorative elements, whiteboard elements or even high-performance absorbers for the think tank. The glass elements of the room in room system are 12 mm LSG panes. These consist of a composite of two 6 mm thick panes, which are glued together using a transparent Phonostop film to form a pane. This gives the thinker cell a high level of sound insulation and the desired level of safety in room-in-room construction.
Room in room system in concatenation:
In the event that two or more thinker cells are linked together, it is necessary to pay special attention to sound insulation from room to room. The certified sound insulation of 37 dB would probably be achieved via a simple middle wall. However, while 37 dB is a very good value in the direction of a "lively" open space, this would not be sufficient sound insulation from one "quiet room" to the other "quiet room". For exactly this reason we place two structurally independent think tanks next to each other and link them only optically. Thus we guarantee a very good acoustic decoupling of the systems. In addition to the acoustic advantage, the user retains flexibility. He can move the rooms separately at any time. On the other hand, the user also has the option of combining the rooms, i.e. creating a larger room from the two individual cubes. For this he only has to buy the corresponding fitting elements for ceiling and wall.
Barrier-free and OPTION base plate
From time to time we are confronted with the requirement to mount units room in room WITHOUT any fastening to the building structure, i.e. also without drilling holes in the floor. On the one hand, we would like to point out here that direct attachment to the floor is what makes a ground-level entrance possible in the first place, thus ensuring barrier-free access. On the other hand, it is simply usual that room structures have to be fastened to the floor, so that this requirement usually goes hand in hand with special locations. Often it is high-quality stone floors, e.g. in a lobby, that are to be protected. Rarely are demands of the landlord and associated deconstruction costs the reason for this wish. In order to be able to react to this situation, we offer a system floor for the vetroCUBE. The construction of the vetroCUBE is built on this composite floor in the usual way, so that a self-contained unit then exists. The screw connection is made into the system base, which provides sufficient support for all other components. In addition, the floor provides cavities for the electrification to be fed into the wall elements. As it always is, this solution (2x also) also has a disadvantage. In the area of the entrance a 50 mm high threshold is created for the user. The advantage is that the floor inside the vetroCUBE can be designed as desired.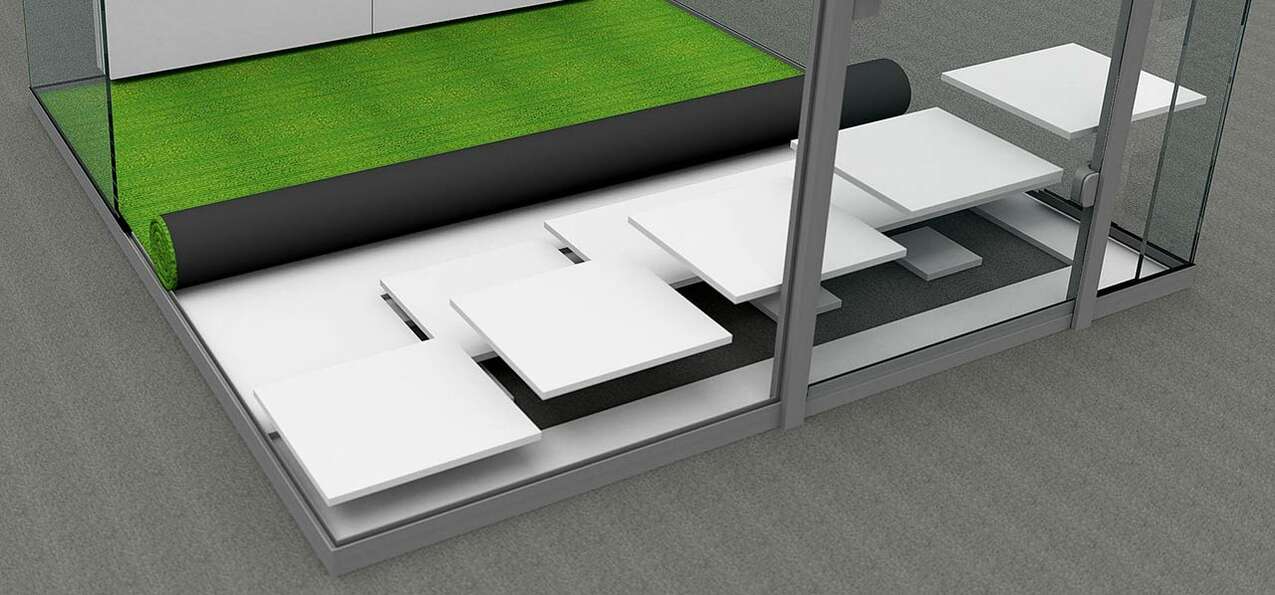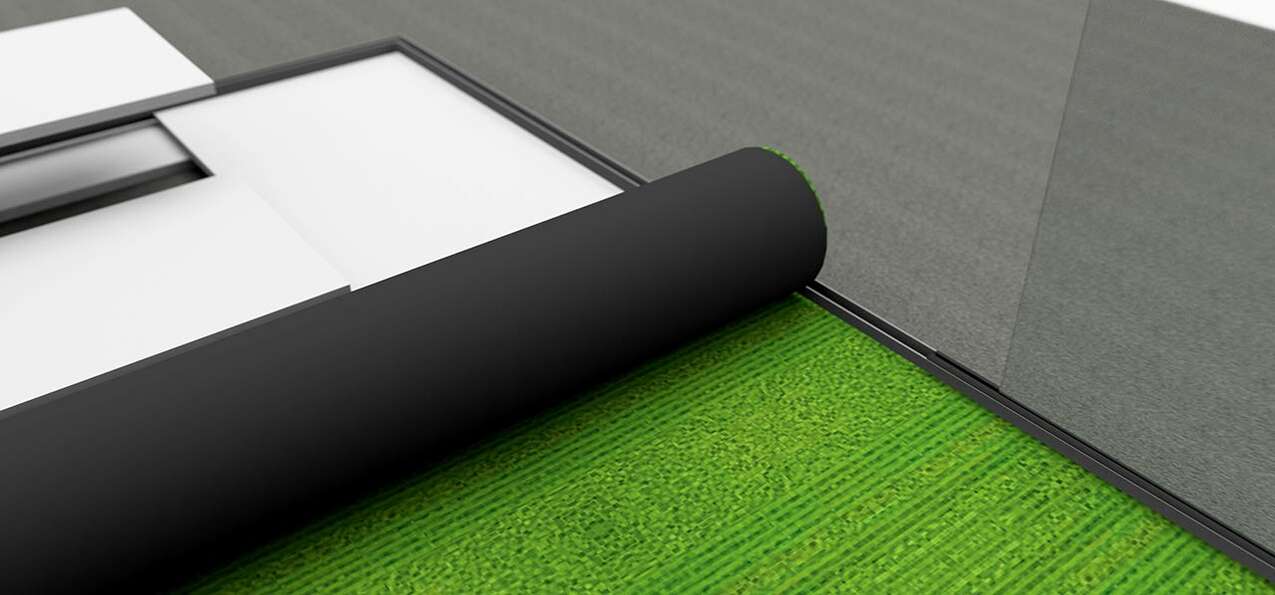 Gestaltungsmöglichkeiten der Raumecken
Zusätzlich zur Qualität der Wandelemente hat die Gestaltung der Ecken einen erheblichen Einfluss auf das Design der Raum-in-Raum Konstruktionen. Wir von woodtec favorisieren die "Glas-Glas Ecke" oder die "Glasrotunde". Dieses Konstruktionsmerkmal ist entscheidend für die leichte und zurücknehmende Architektur des vetroCUBE. Die hohe Transparenz ermöglicht die Planung kleinster Räume und vermittelt dem Nutzer dennoch einen großzügigen Raumeindruck. Bei Architekten und Planern haben wir damit zunehmend Erfolg und doch gibt es immer wieder Situationen, die auch "Vollwand-Ecken" oder eben "Glas-Vollwand-Ecken" erfordern. Die folgenden Zeichnung verdeutlichen die möglichen Varianten. Bitte notieren Sie an dieser Stelle, dass jede Ecke für sich gestaltet werden kann. Sie könnten also tatsächlich alle 4 Varianten in einem vetroCUBE verwirklichen und das kann tatsächlich Sinn machen. Stellen Sie sich einen vetroCUBE vor, der einseitig vor einer Wand steht und zwei Vollwände in L-Konfiguration haben soll. Vor der Wand würden Sie die "Vollwand Ecke" und die "Vollwand-Glas Ecke" einsetzen. Auf der freien Seite die "Glas-Glas Ecke" und vielleicht, aus verkehrstechnischen oder gestalterischen Gründen, eine "Glasrotunde".
Wir von woodtec favorisieren diese transparenten Ecklösungen. Die Räume sind damit über die Ecken "aufgebrochen", sodass sich ein sehr leichtes und filigranes Erscheinungsbild ergibt. Zudem ist von überall her einsehbar ob die Räume belegt sind, auch ohne Buchungssystem.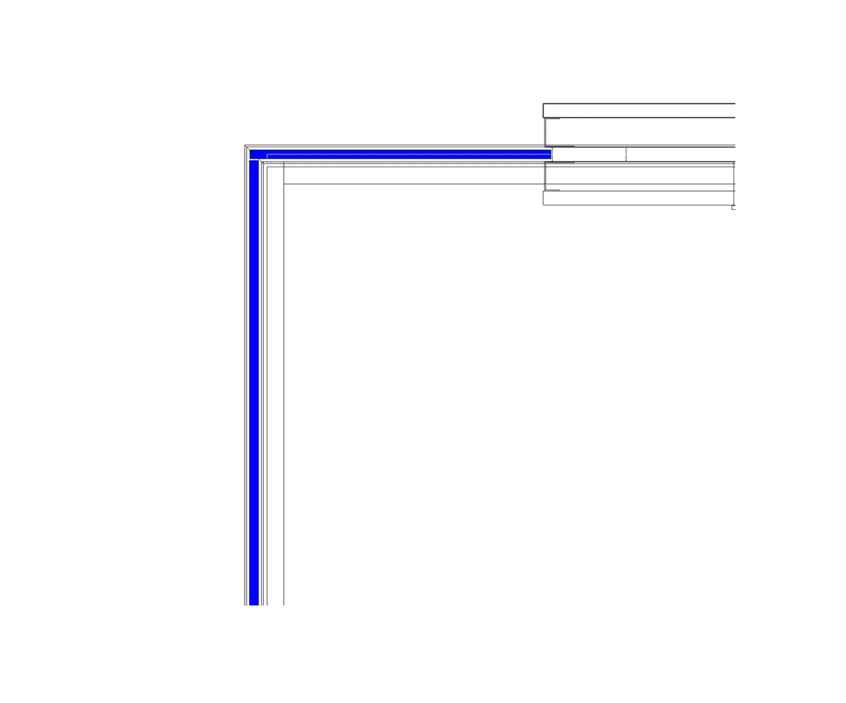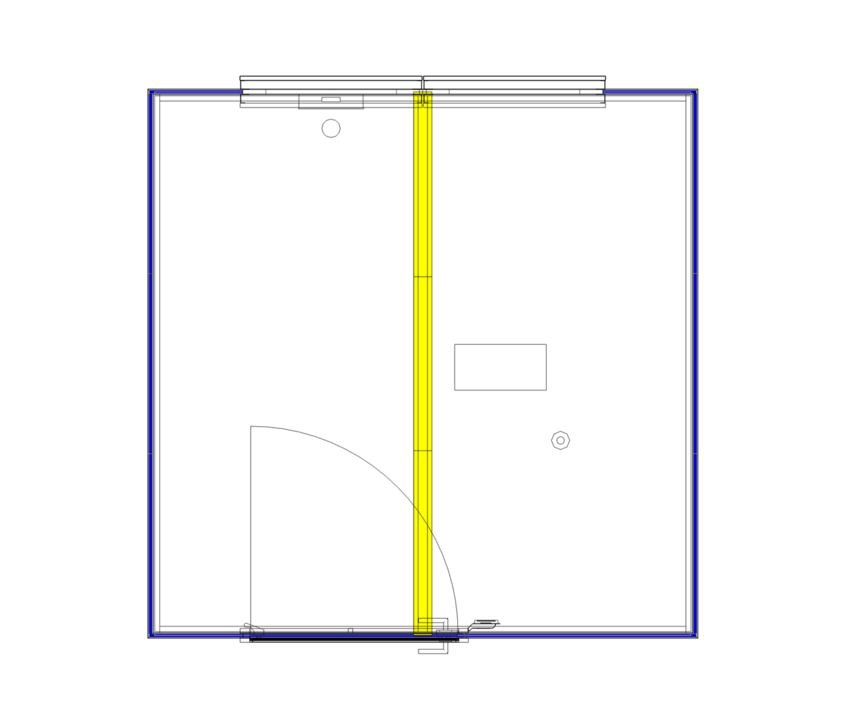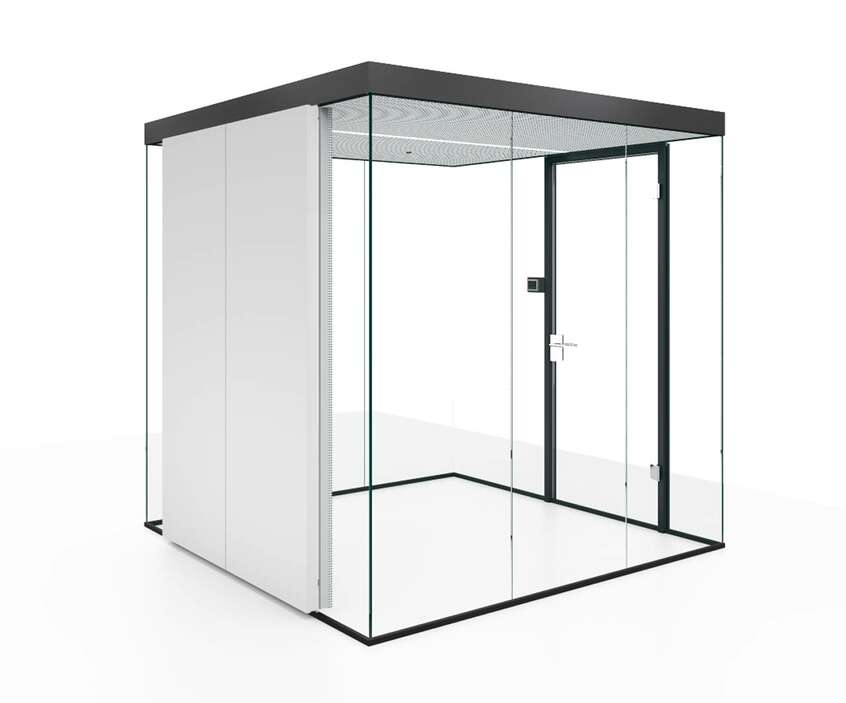 Das gilt auch dann wenn zusätzliche Vollwände gefordert sind. Die Verbindung der Wände erfolgt standardisiert über eine Glas zu Glas Verbindung. Gerade zwischen den Vollwänden sind die transparenten Ecken besonders attraktiv und reduzieren das kubische Erscheinungsbild des Raumes.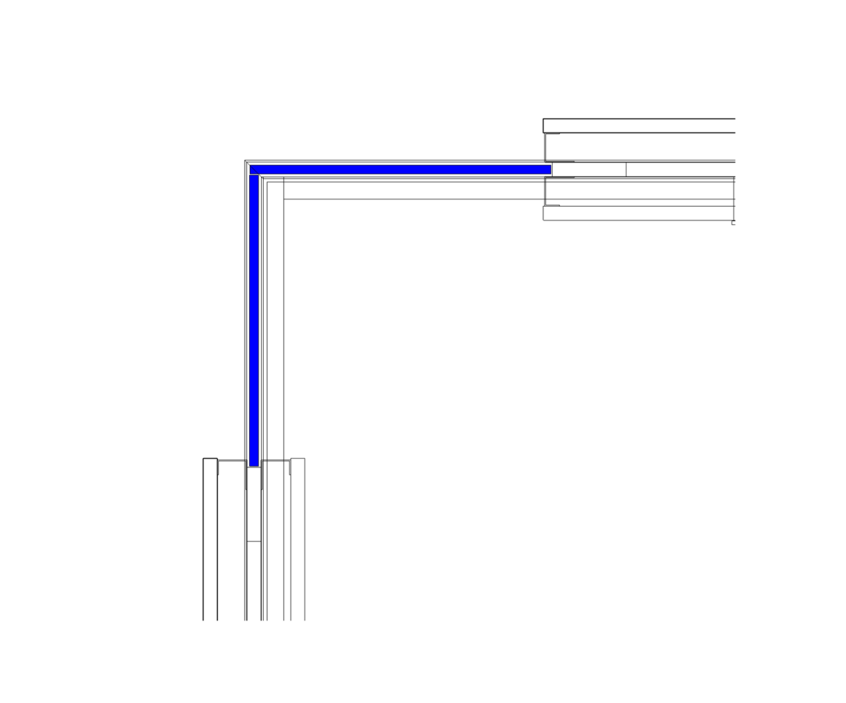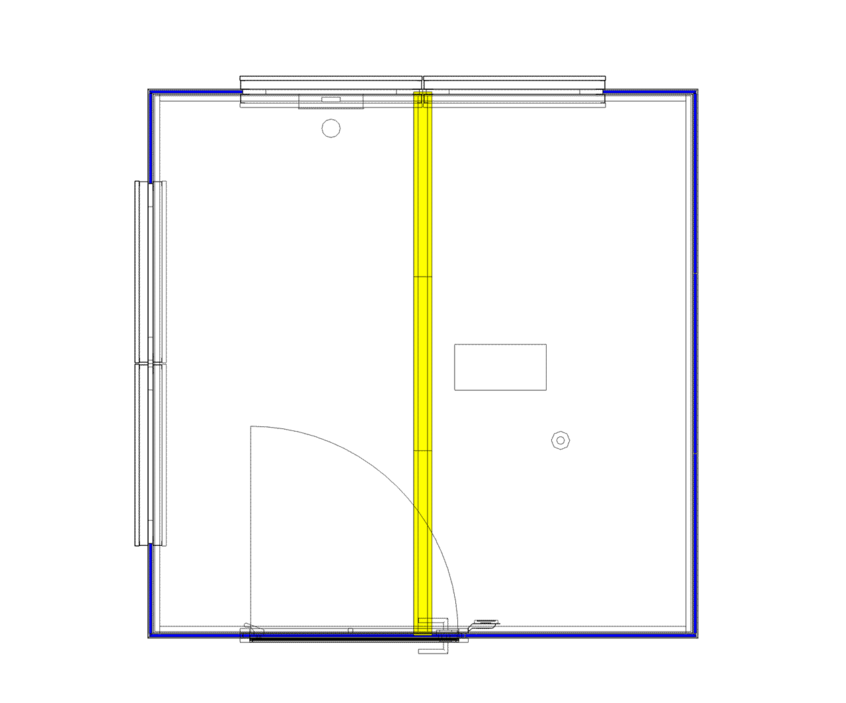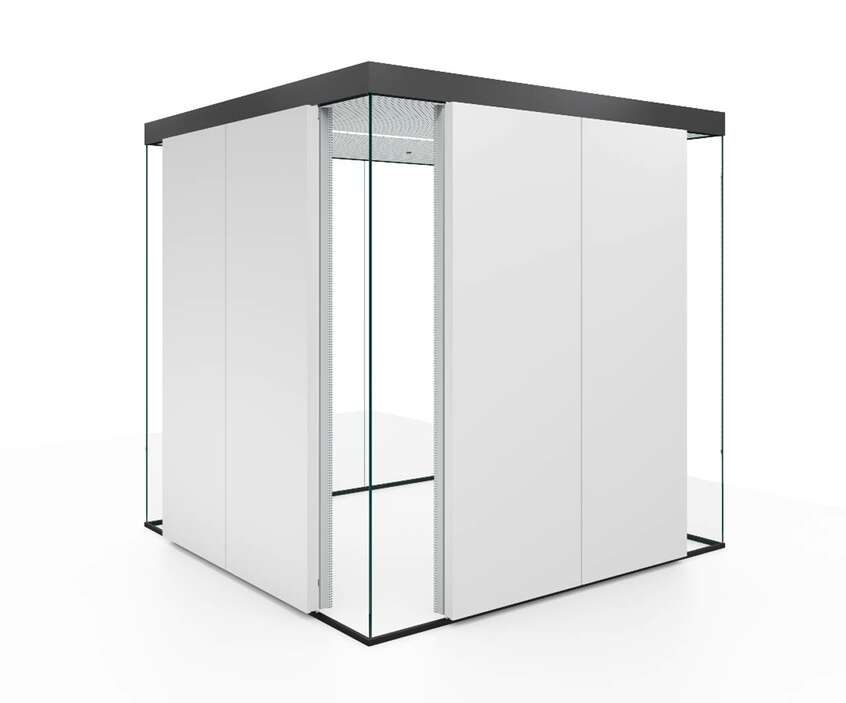 Die bogenförmigen Glaselemente sind eine besonders elegante Form der "Eckverbindung". Die Lösung erfordert die gebogene VSG Scheibe aber eben auch die zugehörigen Profillängen in gebogener Form. Sicher, das wird teurer, aber es ist bezahlbar. Für besonders exponierte Ecken macht die Lösung durchaus Sinn.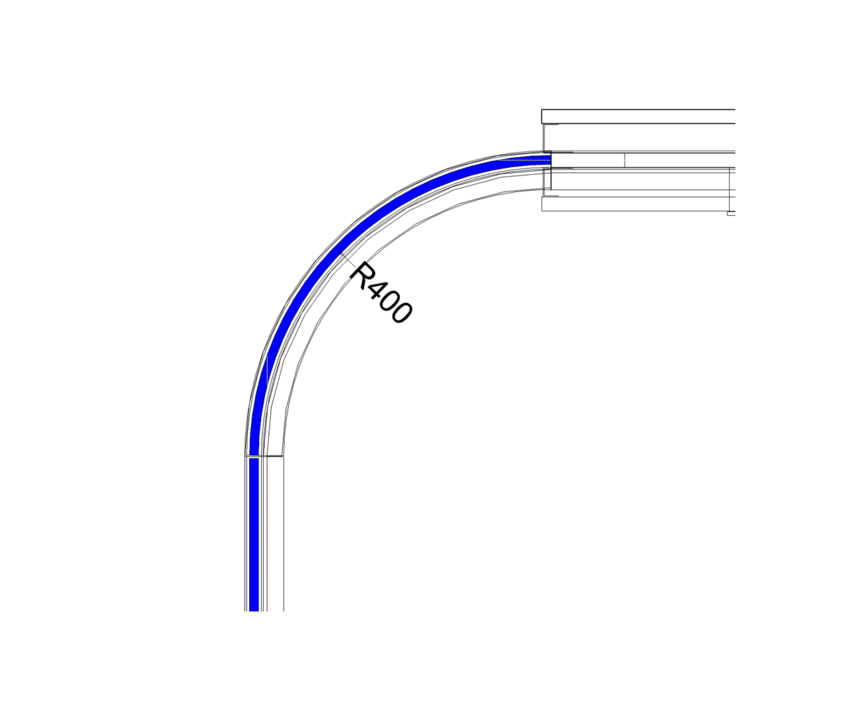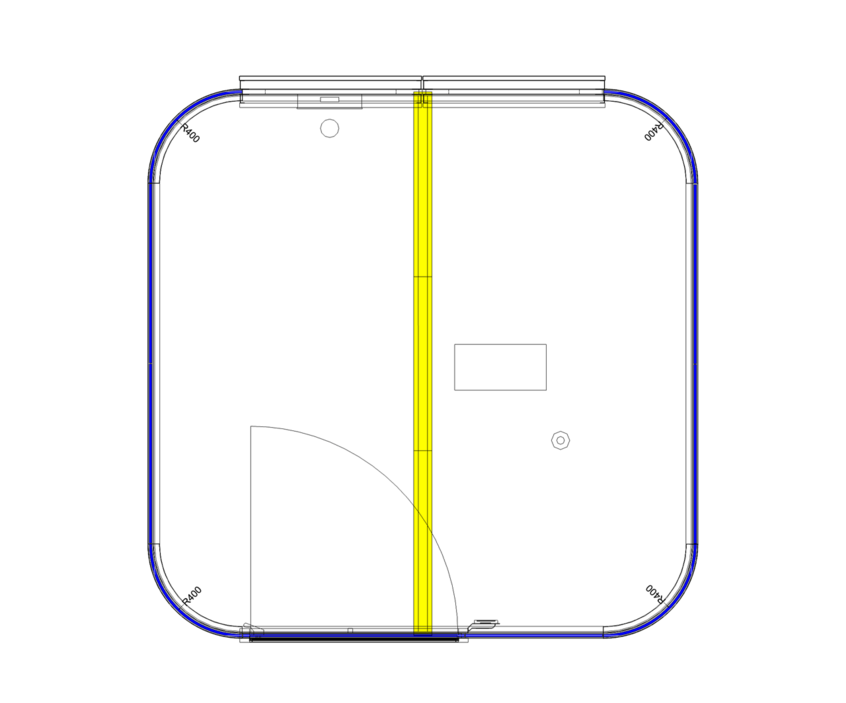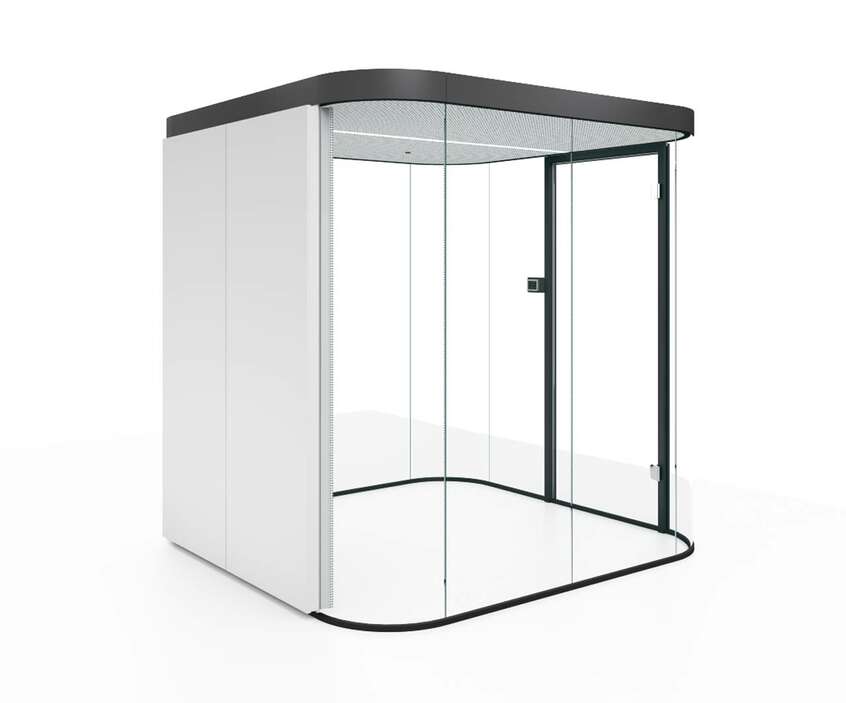 Zwischen zwei Vollwänden erlaubt die Glasrotunde wie auch die Glasecke den Blick nach draußen. Blickbeziehungen bleiben erhalten. Akustisch sind die Nutzer aber vollständig von der Bürofläche abgeschirmt. Auch vertrauliche Gespräche können ungezwungen geführt werden.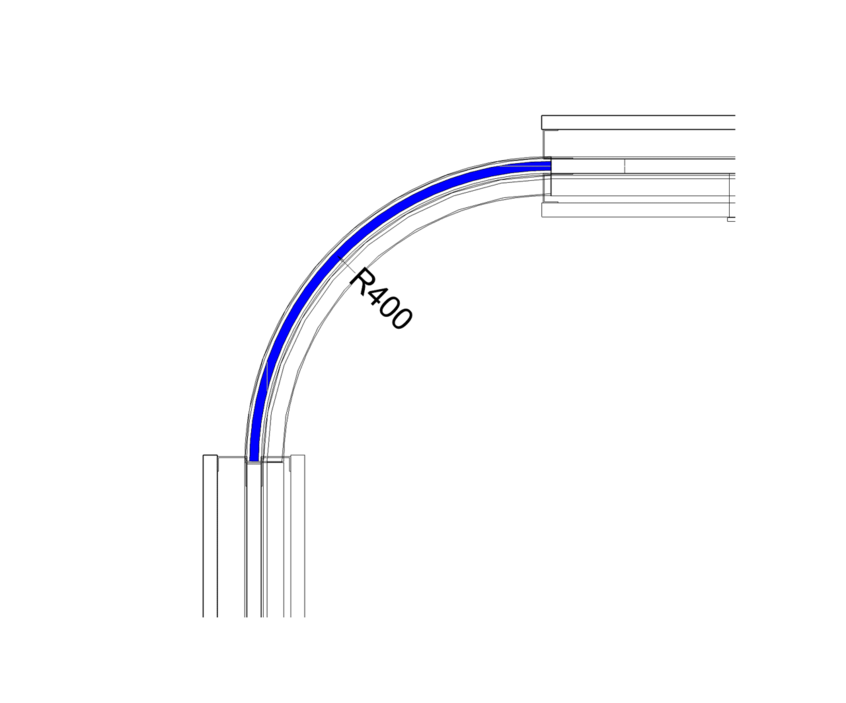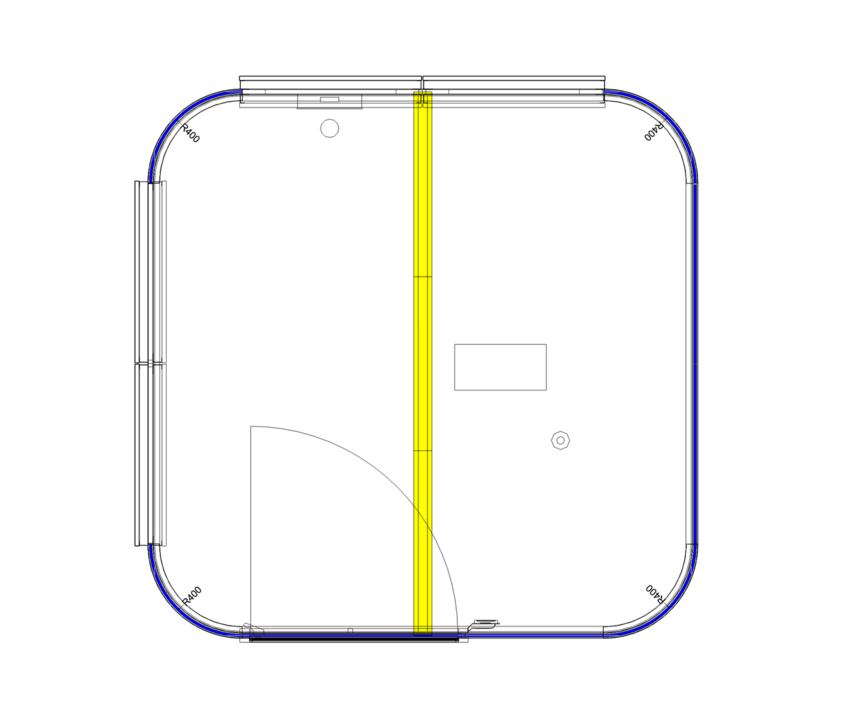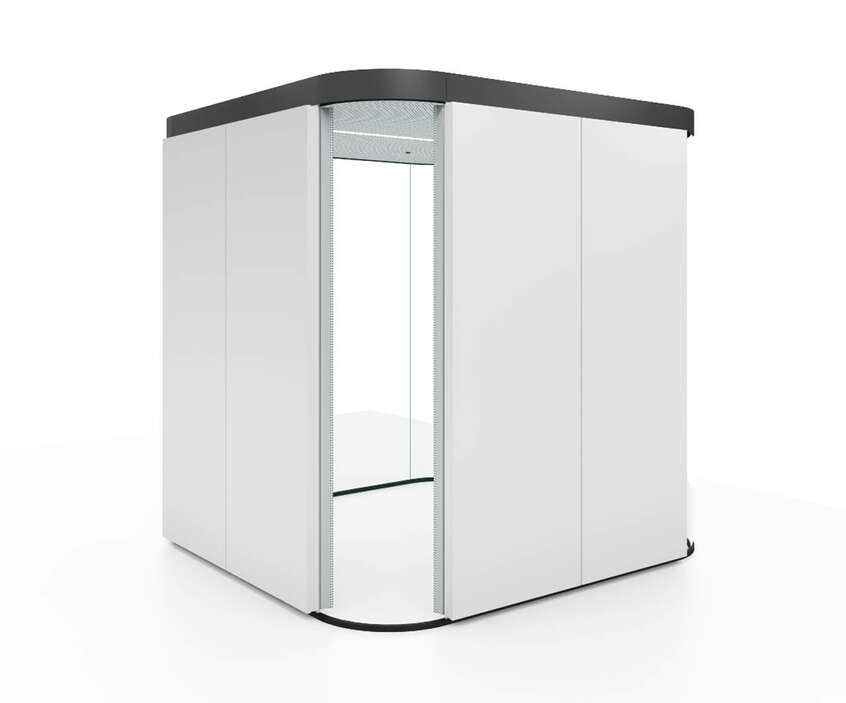 Nun gibt es durchaus Situationen, die eine massive Ausführung der Ecken fordern. Der Raum steht vlt. zweiseitig vor Wänden des Baukörpers. Die verbleibenden Seiten sollen aber verglast werden. Für diesen Fall würden Sie diese Eckverbindung wählen, oder einfach weil dieses Detail besser gefällt.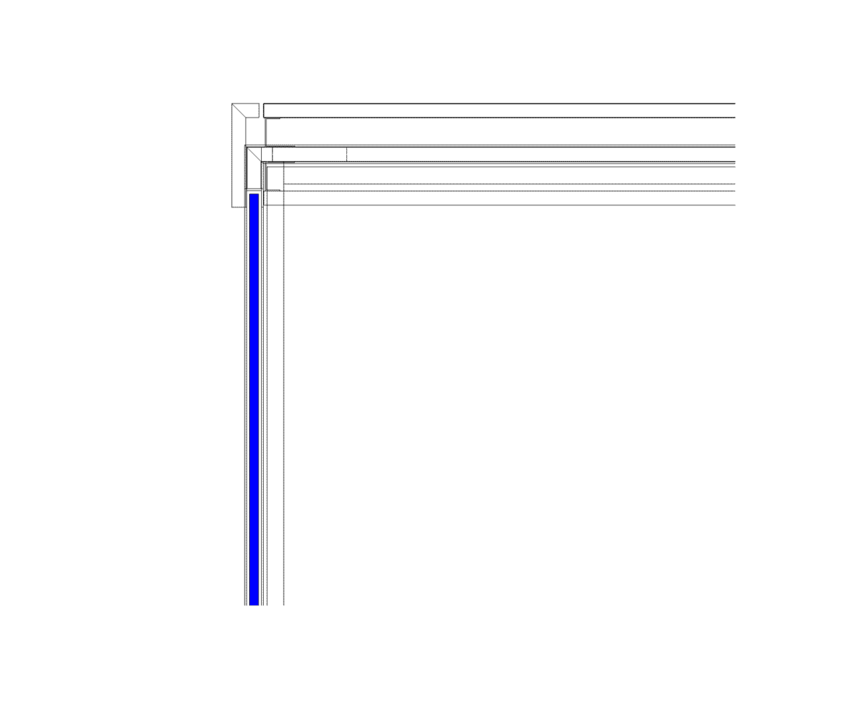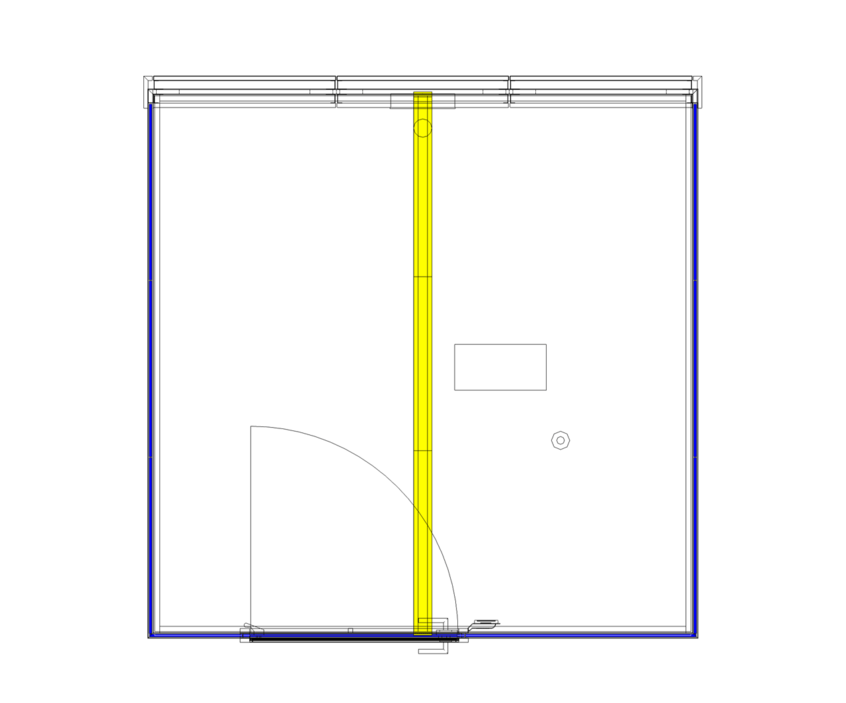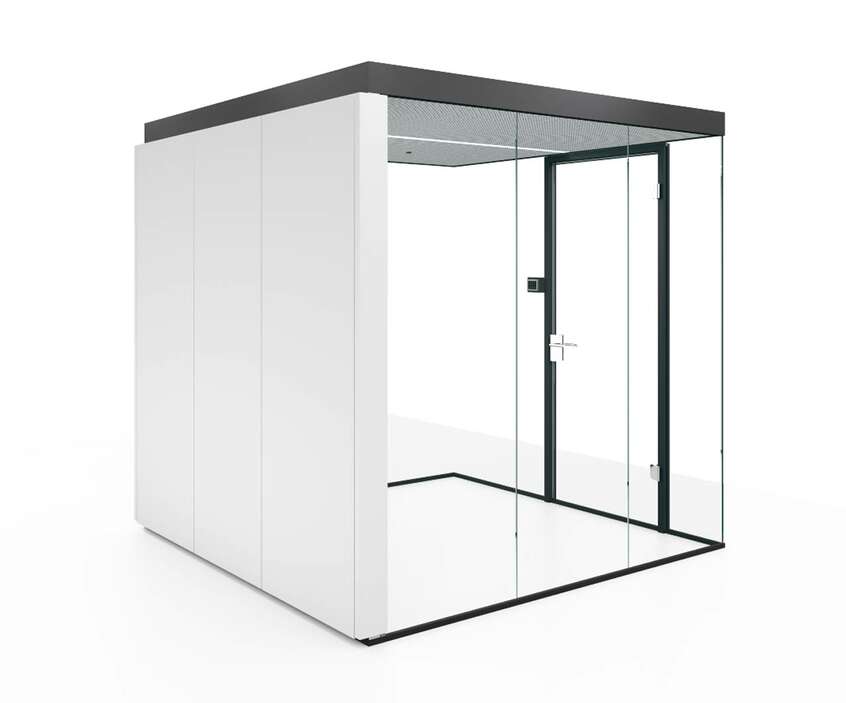 Bleiben wir beim zuvor geschilderten Fall. Eine Ecke Ihres vetroCUBE müsste dann als Vollwandecke ausgeführt wollen. Vielleicht möchten Sie aber auch die o.g. Blickbeziehungen ausschließen, den Rückzugsbereich auch optisch abschirmen. Dann kombinieren die die letzten beiden Ecklösungen.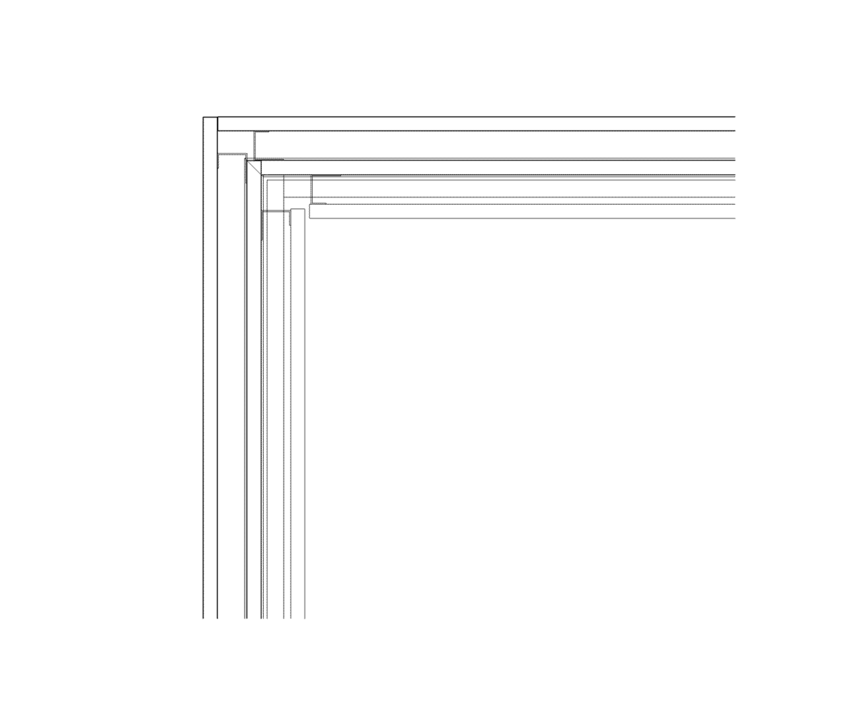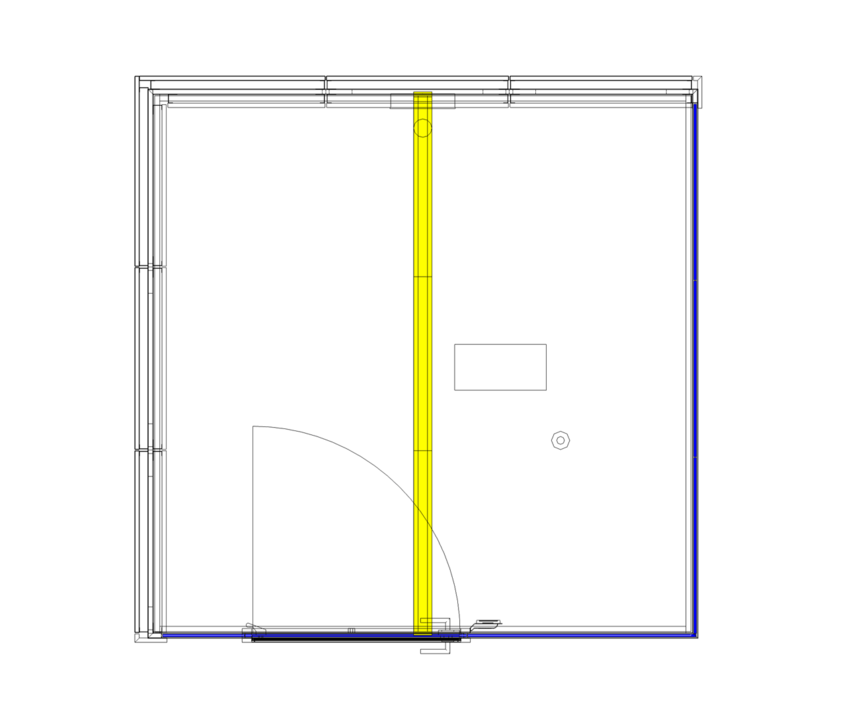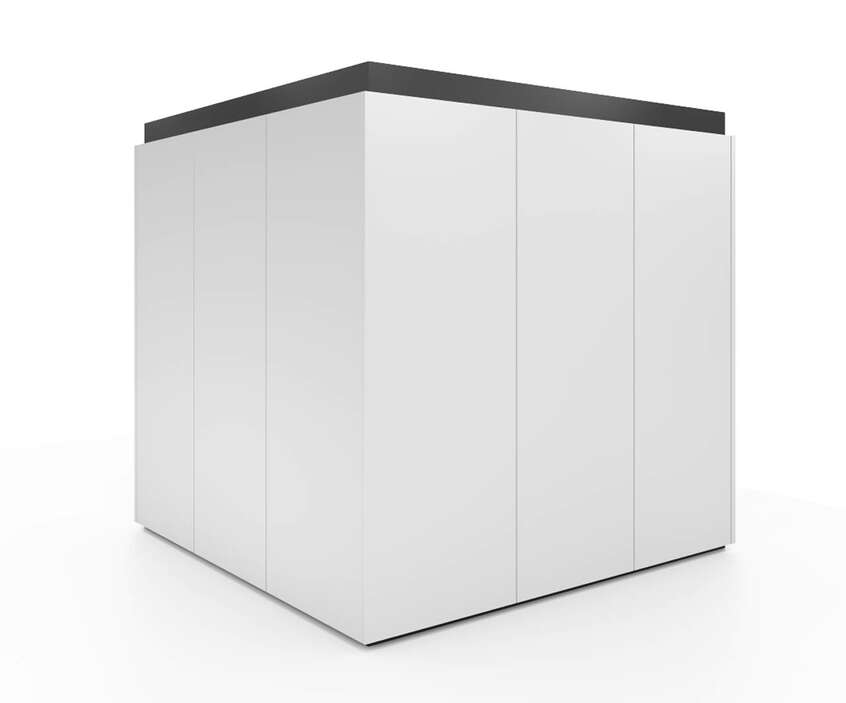 The room in room system can easily be equipped with the necessary fire protection technology, smoke detectors, sprinklers and / or loudspeakers.
The room-in-room system can be designed specifically for work settings in terms of size, equipment and decoration.
The think tank can be optimized for many applications. Here are a few examples. Tell us your wishes. We build your vetroCUBE.