The acoustic solution can be electrified ready for use on request.
On request, the silentUNIT rest module can be supplied with ready-to-use 230 V electrification. We can prepare the electrification in the solid wall elements or the acoustic elements to such an extent that we only hand over a cable harness for connection to the building structure. The electrician, who is familiar with the area, takes over the wiring harness and places it on his distribution board.
The acoustic module can be individually electrified.
The standard equipment of the flush-mounted socket unit is three 230 V earthed sockets and two RJ 45 patch to patch panels for data lines. All other common interfaces, e.g. HDMI, VGA or other units can be installed on request.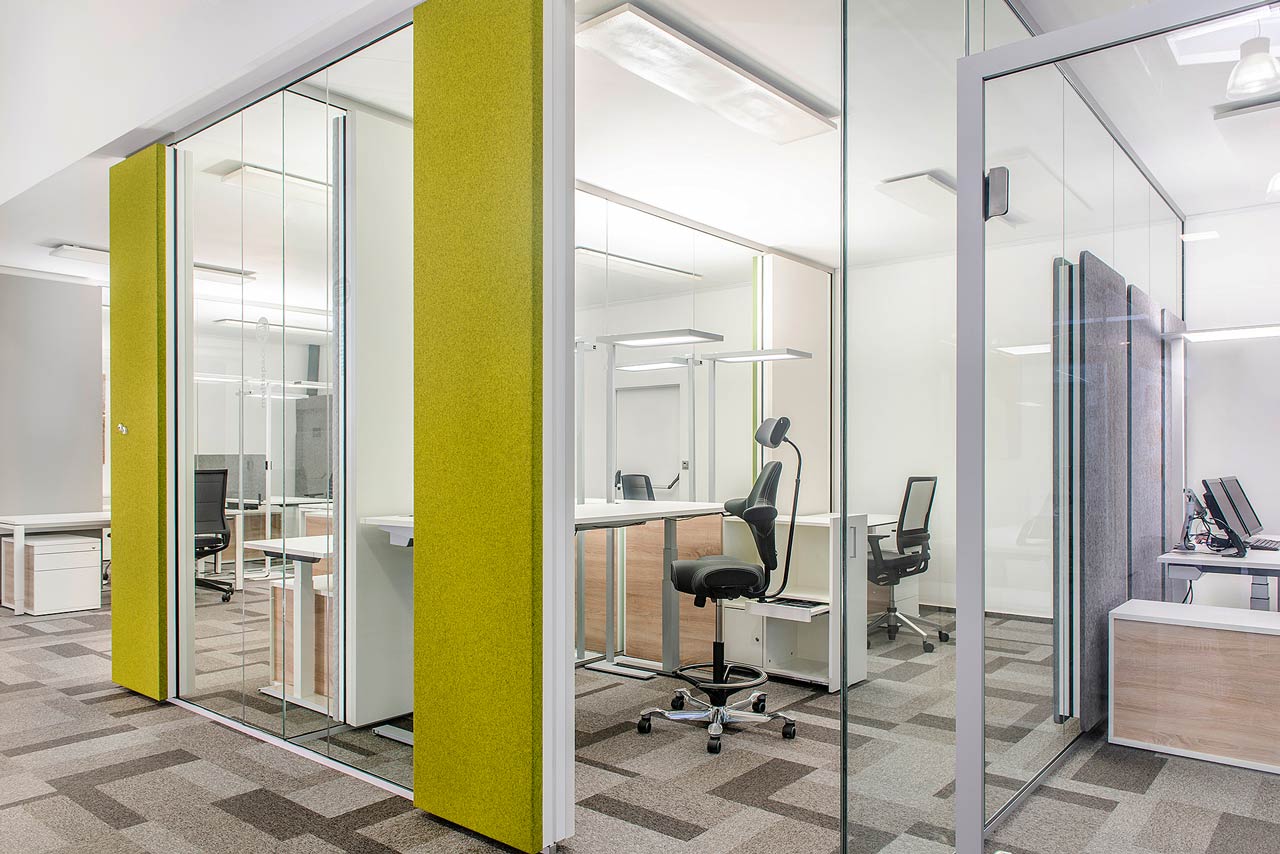 All 230 V modules in the acoustic module are wired internally ready to plug in. We deliver a cable either to the floor or to the ceiling. In the event that the sockets are to represent several electrical circuits, we hand over an appropriate wiring harness for connection by the electrician familiar with the location. The electrician does not have to provide any wiring in the rest module itself.
For data electrification, the patch to patch fields, your electrician will prepare the appropriate cable lengths. We pull them either over the ceiling or over the floor into the solid walls to put them inside the solid wall on the patch to patch fields.
At the customer's request, conventional electrification in the rest module is of course also possible. In other words, the electrician himself wires and installs the sockets in the pre-drilled holes. Here, however, the work must be well timed.
For the light control we can offer radio pushbuttons according to the Enocean principle. These switches do not need a battery and do not need to be connected to the power supply. Just by pressing the switch enough energy is generated internally to bring the information to the corresponding actuator.
The acoustic system is designed as a modular system. It can be installed room-high or under a self-supporting truss.
The resting module is individually designed for the intended use. Among other things, it is adapted to the given room height and furniture formats.