Glass wall without frame for optimum transparency
soloVETRO is a room-high glass wall system for the office. Unlike conventional mullion-transom constructions, however, the glass here is set exclusively in horizontal profiles. Vertically running profiles do not exist with this glass wall. The glass panes are mounted frameless. The glass wall is thus completely transparent. The design of the wall is receding. Room divisions are created to match the current architecture, with high demands on acoustics and thus on confidentiality without restricting the transparency of the organisation.
The soloVETRO glass wall offers a single-glazed variant and a double-glazed variant. Both variants are equipped with safety glass. The single glazed office glass wall is fitted with 12mm thick laminated safety glass (LSG). It achieves an average sound insulation of approx. 37 dB. The double-glazed glass wall is equipped with two 10 mm thick single-pane safety glasses and encloses a 50 mm air space. This construction achieves a high sound insulation of approx. 42 dB. Both glass walls are guided on the floor and ceiling in aluminium profiles.
Only glass wall with dry glued panes
The vertical edges of the glass panes are polished and dry bonded to both glass walls by means of a special transparent profile. The bottom profile is 30mm high for both constructions, the ceiling profile 50mm. The single glazed wall is in 30mm wide profiles, the double glazed glass wall is in 80mm wide profiles. The glass walls are compatible and can be used in direct proximity to each other or can be interlinked.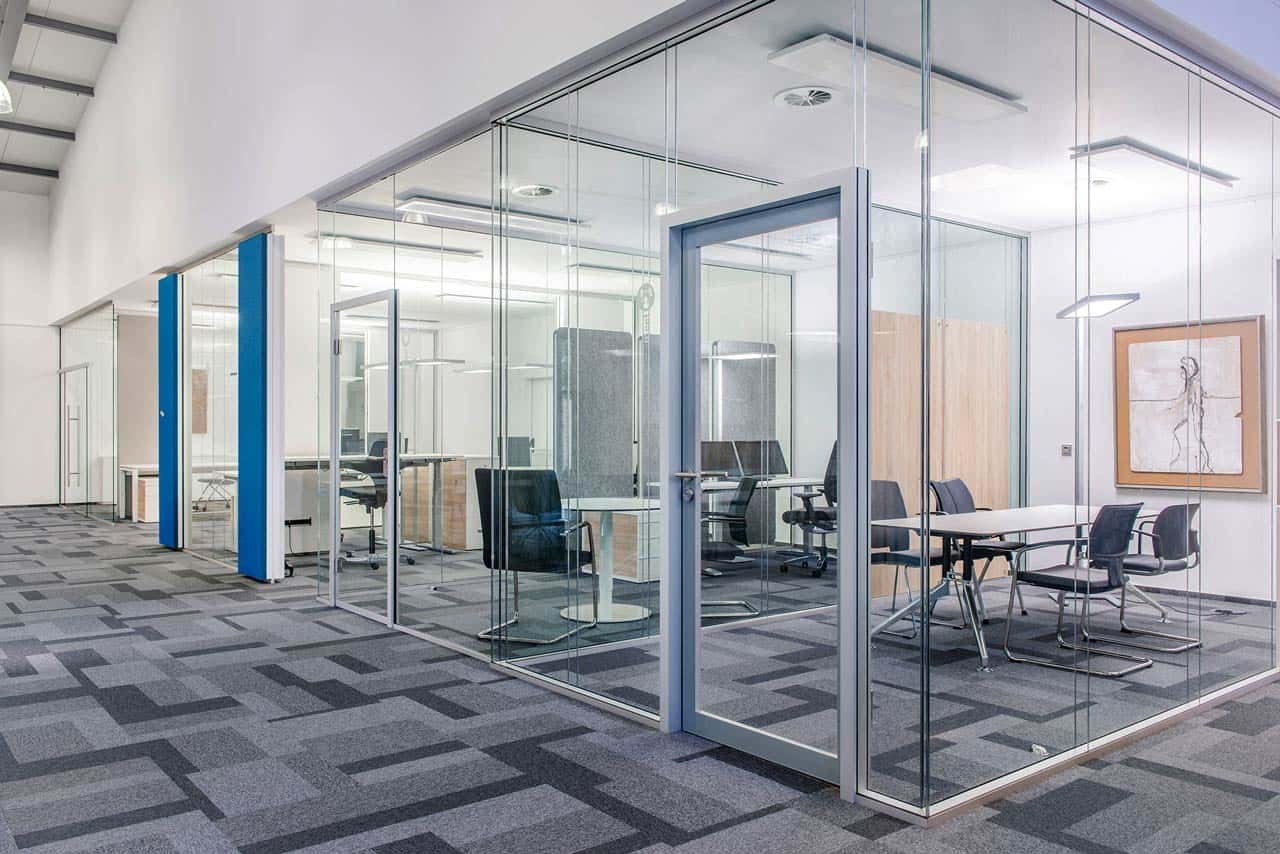 Only glass wall with solid wall elements and foils
The glass wall only can be combined with solid wall elements. Alternatively, glasses can be laminated. For the double glazed wall we also supply decorative elements for installation in the space between the panes. The surfaces of these decorative elements can be individually designed.
Only glass wall and acoustics
Just as solid wall elements can be integrated into the system, acoustic elements can also be installed. In combination with suitable absorber shells, the glass wall becomes an important medium for room acoustics. Details can be found under the heading Acoustics.
Highly transparent all-glass walls contribute to the optimised use of office space. Rooms appear larger. Central zones can be exposed and better used.
The soloVETRO glass wall provides good sound insulation. On request, we integrate high-performance absorbers to reduce the reverberation time.
The all-glass wall is composed of frameless glass elements. The butt joints are dry glued. Corners are glass to glass joints.