Acoustic solution Details, construction, variants, design
The silentUNIT rest module consists of frameless glass surfaces and highly effective class A sound absorbers. The weighted sound absorption coefficient Alpha w is 1.0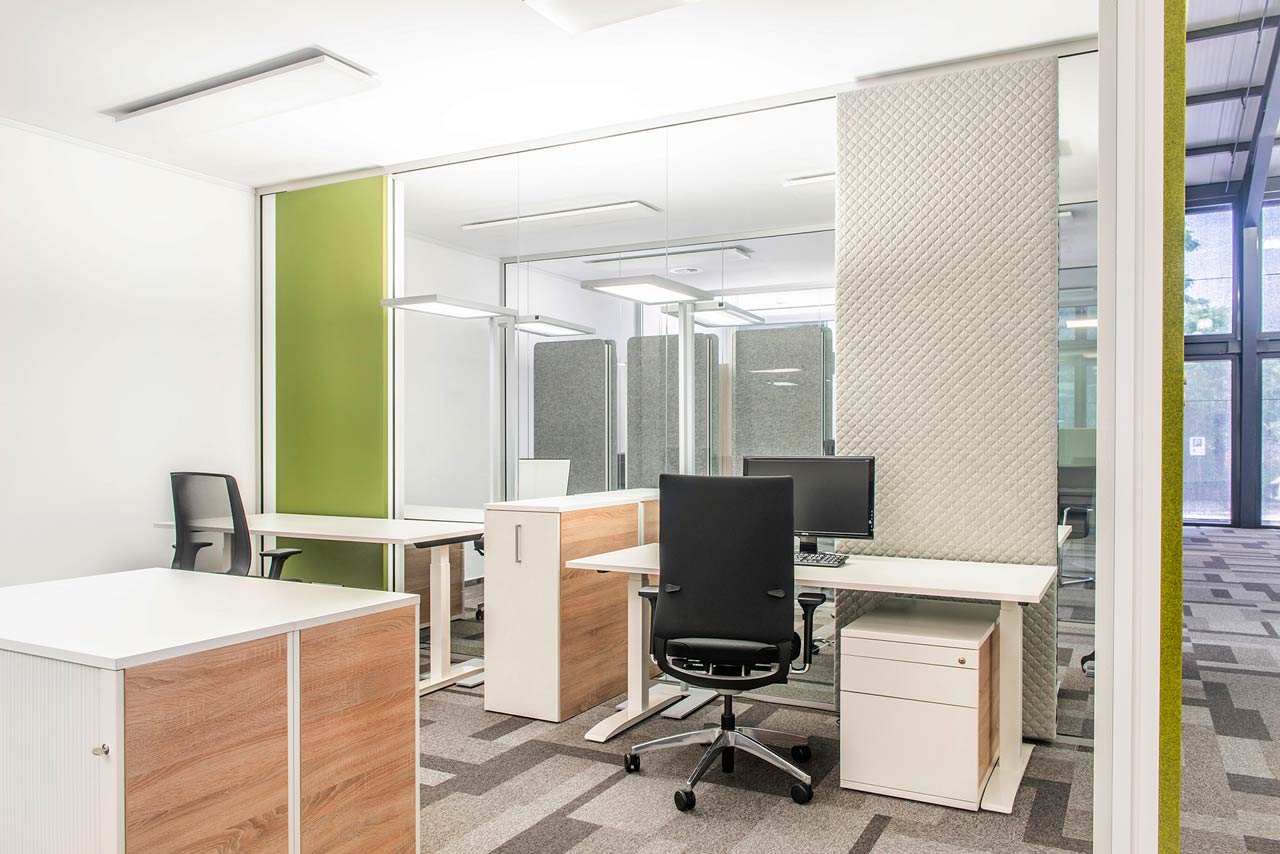 silentUNIT is available in three versions: As a room-high glass acoustic system it is mounted between floor and ceiling. As a truss system, the rest module is mounted between the floor and the self-supporting truss. Last but not least, the absorbers can also be supplied simply as pre-wall absorbers and mounted directly on the walls of the building.
The filigree design of the resting modules matches modern architecture
The filigree profiles on the one hand and the frameless glazing on the other are responsible for the objective, contemporary and discreet design. The design of the resting module fulfils the requirements of current architecture and is reflected in the structure.
silentUNIT is an open room structuring system. The glass elements are safety glass and 10 or 12 mm thick. This depends on the installation height. The glass elements are supplied in ESG quality (toughened safety glass). ESG panes provide sufficiently good sound insulation and are comparatively insensitive. They are always used when open or semi-open room structures are created, i.e. no closed rooms are built.
If room situations are to be executed closed, we use 12 mm VSG elements. These consist of a sandwich of two 6 mm thick panes and a Phonostop foil in between. They thus have a higher sound insulation value and are therefore more suitable for closed rooms. Further information on this application can be found on the pages of our sister product soloVETRO
A-Class absorber of the rest modules in different variants
High-performance absorbers are integrated room-high, at parapet height or skylight height. The room-high version is mounted on a low-cost melamine support. The variants with glass components are mounted directly on the glass surfaces.
The A-class absorbers are microperforated metal cassettes. They are powder-coated according to RAL and can therefore be unobtrusive white or even become a design element. In addition, variants with textile covers are available. The high-performance absorbers are 80 mm thick and equipped with a highly sound-absorbing acoustic filling, a polyester fleece. This acoustic mat is a recycled product. It is made, for example, from old beverage bottles. The contact with polyester wool is harmless and causes no allergic reactions, no skin irritations and no breathing problems. The acoustic filling does not form dust and is free of chemical binders. It is 100% recyclable.
The acoustic system is designed as a modular system. It can be installed room-high or under a self-supporting truss.
The resting module is individually designed for the intended use. Among other things, it is adapted to the given room height and furniture formats.