Characteristics of space solutions:
Ventilation 60 m³/ pers and h - max. 35 dB
Sound insulation 37 dB (entire system)
Barrier-free - no stage in the input
Maintenance-free - no follow-up costs
Statics tested
Integrated lighting
Electrification with defined interface
Integrated and self-sufficient cooling on request
Construction independent of the building
Design transparent without frame and supports
Adjust sizes to the project
Acoustics adjustable on demand
Acoustic, whiteboard and decorative elements
Fire protection components can be installed
System floor available on request
self-sufficient, modular and flexible
vetroCUBE is a self-sufficient, self-supporting space solution. The sound insulation is 37 dB and thus allows confidential conversations. The room in room system is free, without connection to the ceiling or the facade of the building. Statics prove the stability. The equipment makes the system independent of the infrastructure of the building in which it stands. It is equipped with its own ventilation system. With the integrated lighting, the room system is independent of the light of the surrounding room. The think tank is electrified ready for use. On request, it can be equipped with a self-sufficient cooling system. The room solution stands freely in the building, so that the vetroCUBE can be implemented easily and at any time. It has a modular design and can be expanded as required. Each component is reusable. It does not need to be connected to the wall, façade or ceiling. This makes the vetroCUBE a room in room solution, freely positionable in the building.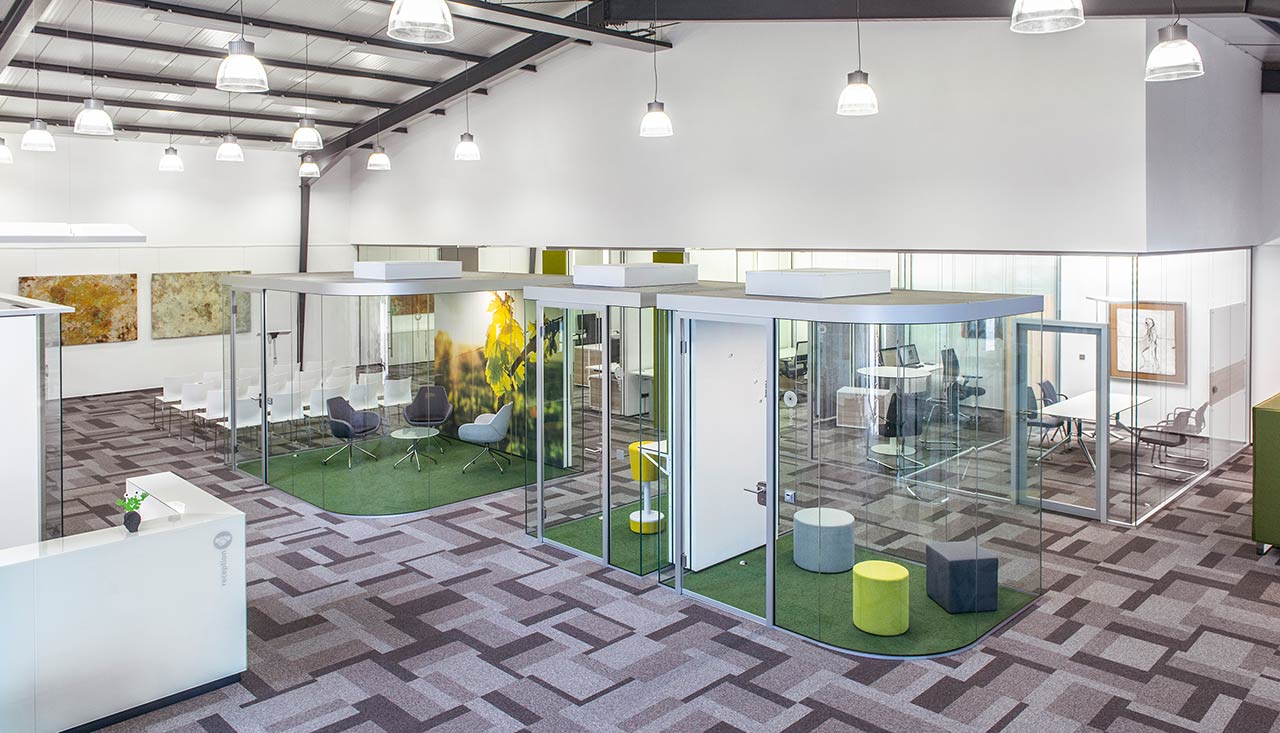 Frameless glazing and glass to glass corner connections guarantee a filigree and restrained appearance. The concept and transparent appearance of the thinking cell ensures that your room structure does not lose its optical balance. View relationships are consciously upgraded. Is the reduction of transparency nevertheless desired? A selection of glass decorations is available.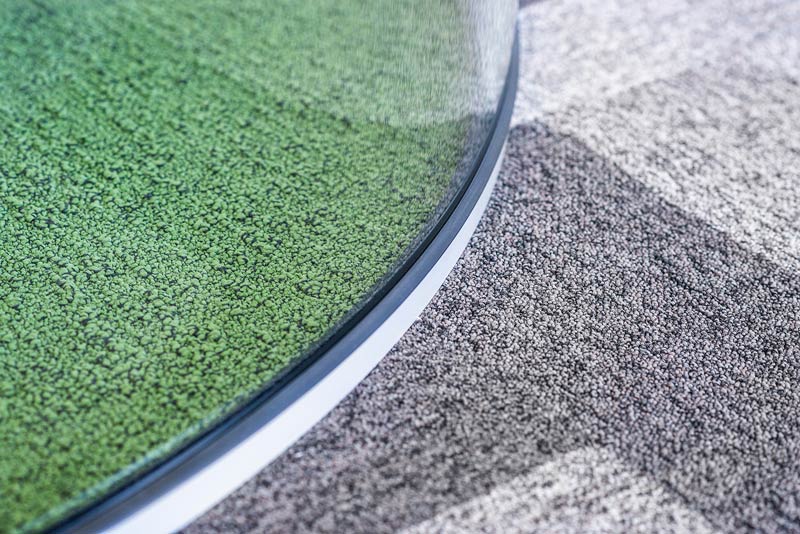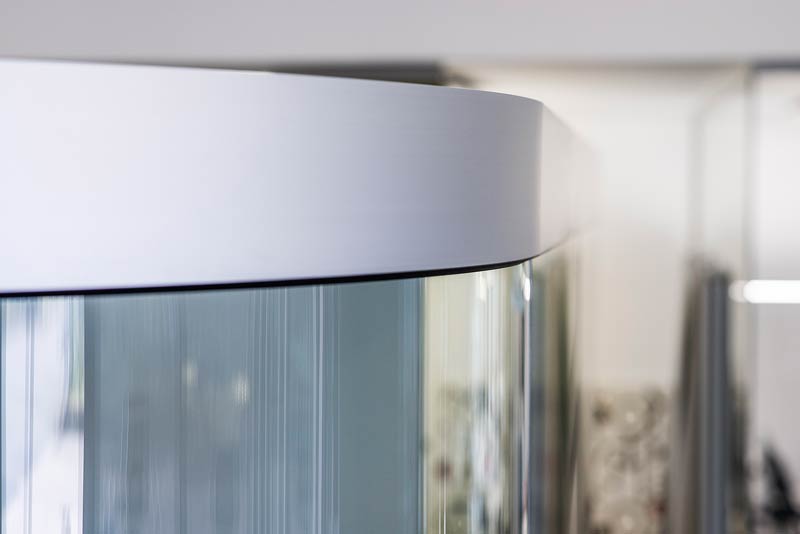 Barrier-free for room in room Systems
Just as in ALL other areas of office space planning, barrier-free accessibility is a matter of course, so it also applies to room-in-room systems from our point of view. Even though flexibility is our top priority, we fasten the system directly to the floor of the building structure and thus do without our own system floor. Accordingly, the entrance area is at ground level. In combination with a 1000 mm wide door, this results in barrier-free access to the vetroUCBE.
Even though self-contained systems, i.e. systems with a system floor, want to be understood as more flexible, it should be noted that this flexibility is only given to a limited extent. In case of relocation or repositioning, these systems also have to be dismantled exactly like vetroCUBE, because they cannot be moved as a whole inside the building.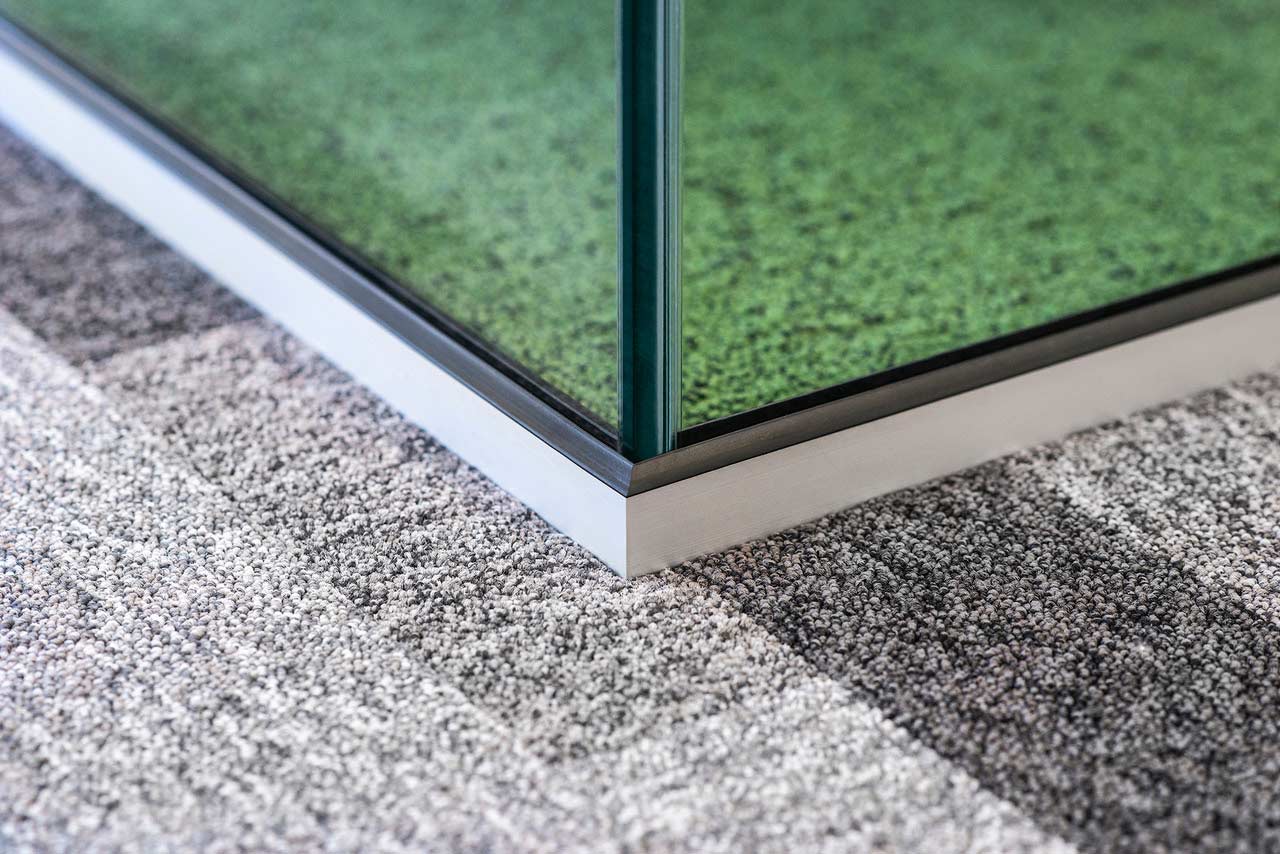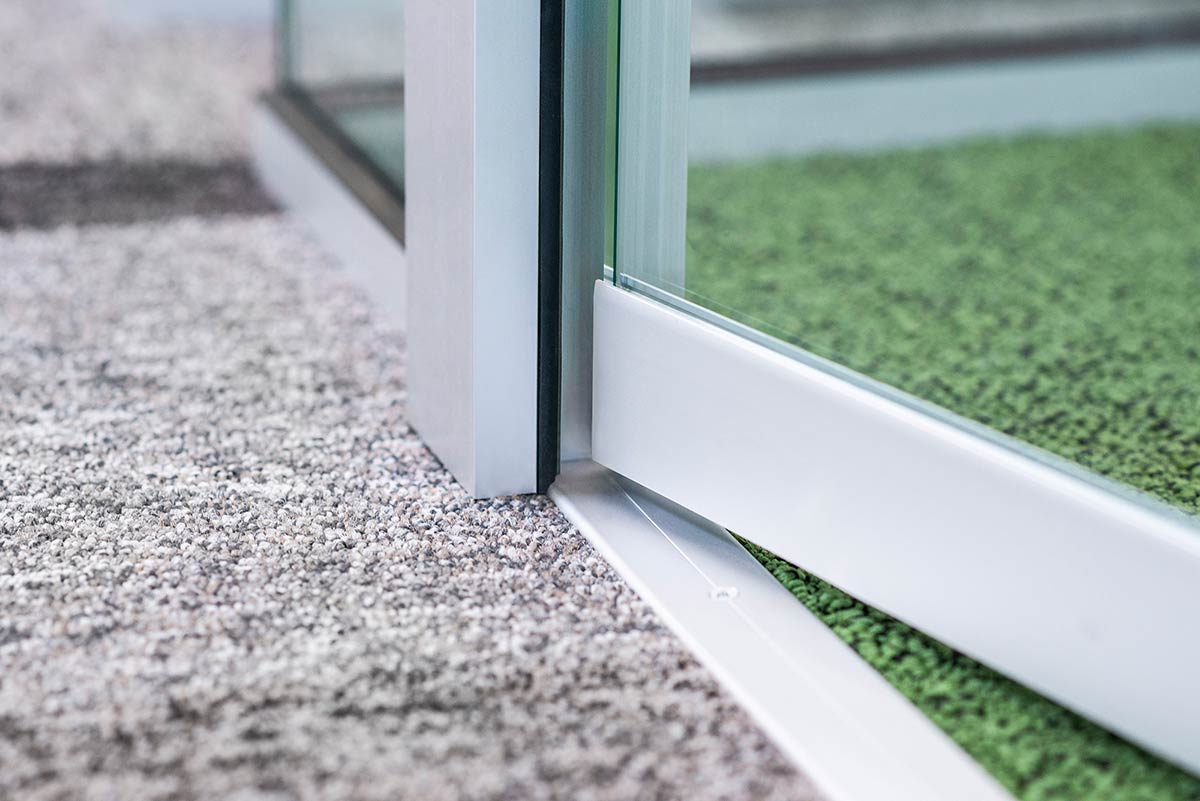 Sizes and options of room in room systems
On the following pages we present different thinker cells, e.g. for use as telephone booths, as consultation rooms or simply for meetings. However, the presented think tanks are only to be understood as suggestions. As the user, you specify the purpose for which you need the think tank. We know which space requirement results from this use and work out the suitable room in room system for you.
We supply very small think tanks, e.g. for use as telephone booths, but also large think tanks for free-standing conference rooms in room-in-room construction. The requirements for optimal room acoustics, for example, are quite different and size-dependent. In addition, a number of options and alternatives are offered for the vetroCUBE think tank. Particularly with regard to lighting, electrification, ventilation and cooling of the room-in-room system, the requirements vary from project to project. Fire protection can also entail a number of special requirements. We clarify these details with you in advance and adjust options accordingly.
Comparison and parallels to the drywall system
At woodtec we are often confronted with the option of dry construction. The market offers systems such as the Knauf Cubo. Here, however, it is a good idea to recall the original thought processes that led to the development of room-in-room systems. What was required was a room, like a piece of furniture, independent of the infrastructure of the building, self-supporting, i.e. free-standing, without connection to ceiling, wall or façade, easy to install, easy to move, just easily changeable. You should carefully consider how important the easy, dust-free installation and relocation of the room in room construction is to you during operation. You must evaluate the advantage of ALL components being reusable, as well as the modular expandability of the system. Also consider the possibilities of adjusting the acoustics of the vetroCUBE. In addition to the highly sound-absorbing system ceiling, wall absorbers can also be used to set the optimum room acoustics. These wall absorbers become all the more important for good room acoustics the smaller the vetroCUBE has to become. Very important and therefore especially important: Imagine the effect of a vetroCUBE glazed on three sides, for example. Now draw a comparison with the much more massive drywall construction.
Die Raum Lösung steht frei im Gebäude, sodass der vetroCUBE einfach und jederzeit umgesetzt werden kann. Er ist modular aufgebaut und kann nach Bedarf erweitert werden. Jedes Bauteil ist wiederverwendbar. Er braucht keinen Anschluss an die Wand, die Fassade oder die Decke. Dadurch ist der vetroCUBE als Raum-in-Raum Lösung, frei im Gebäude positionierbar.