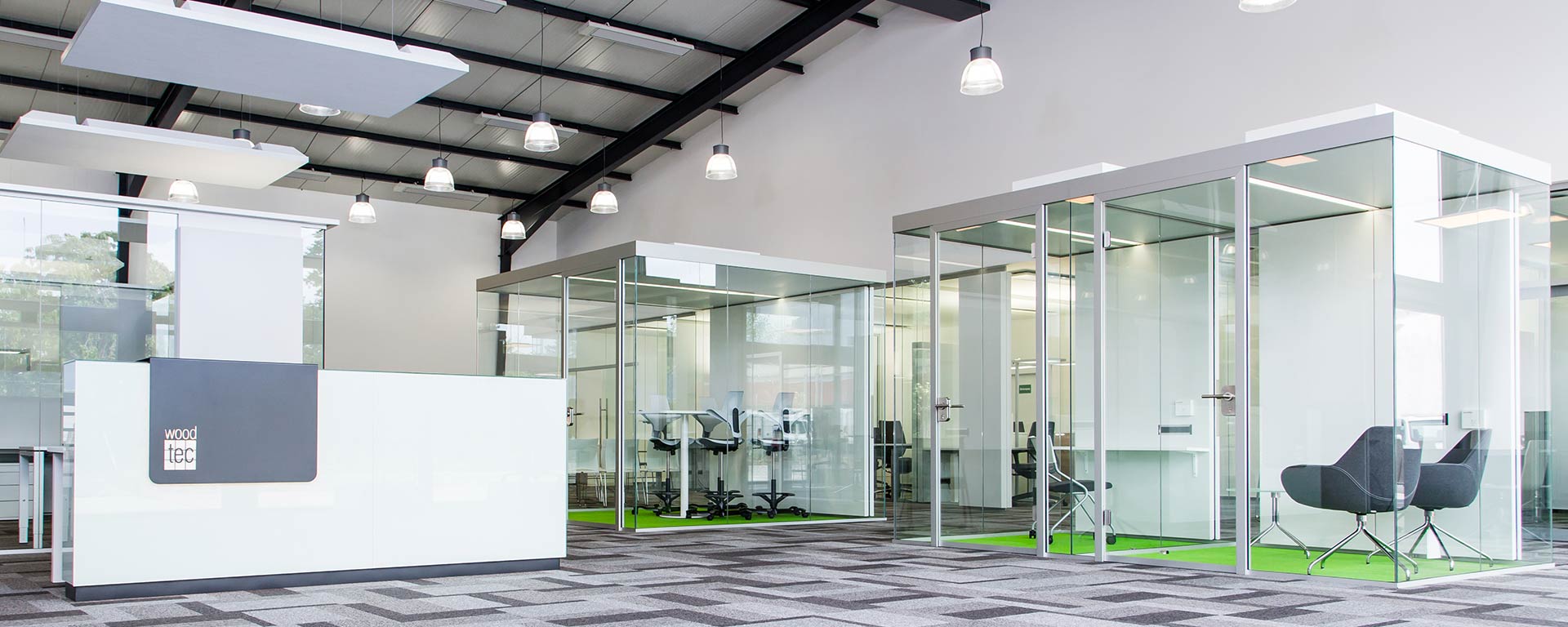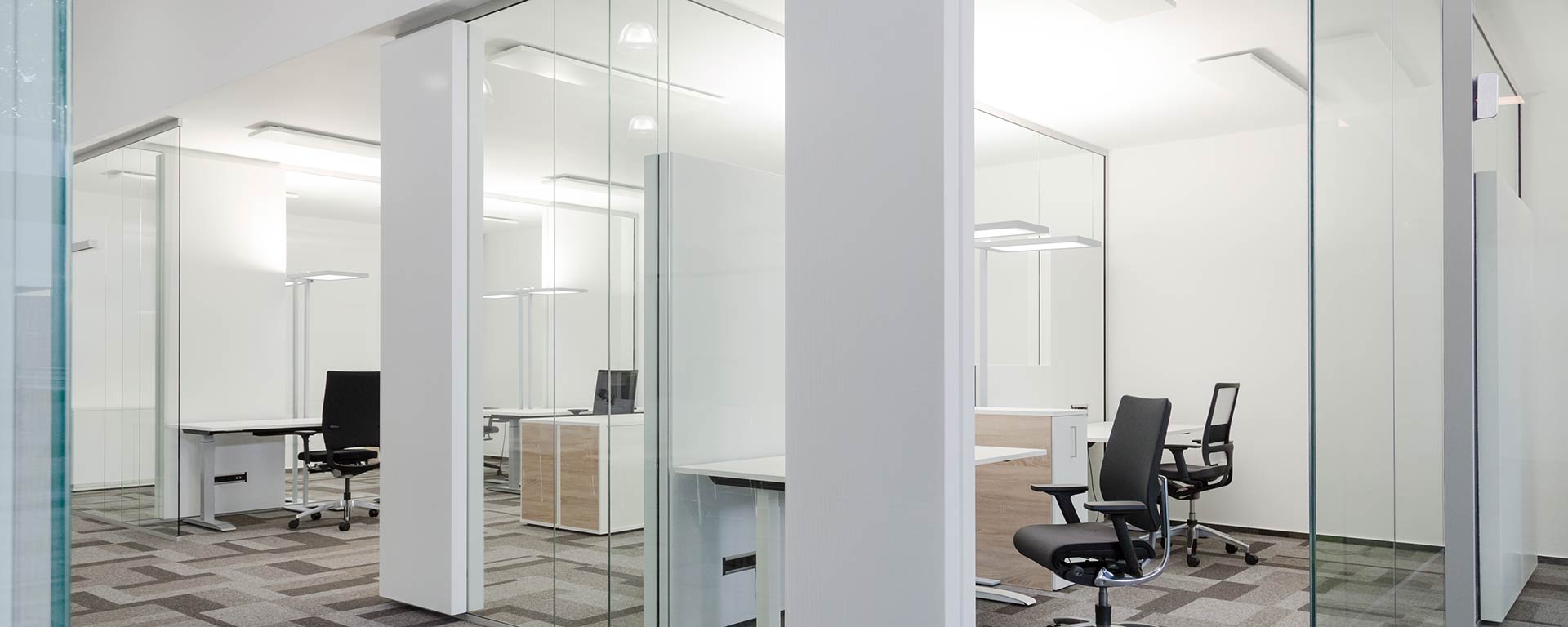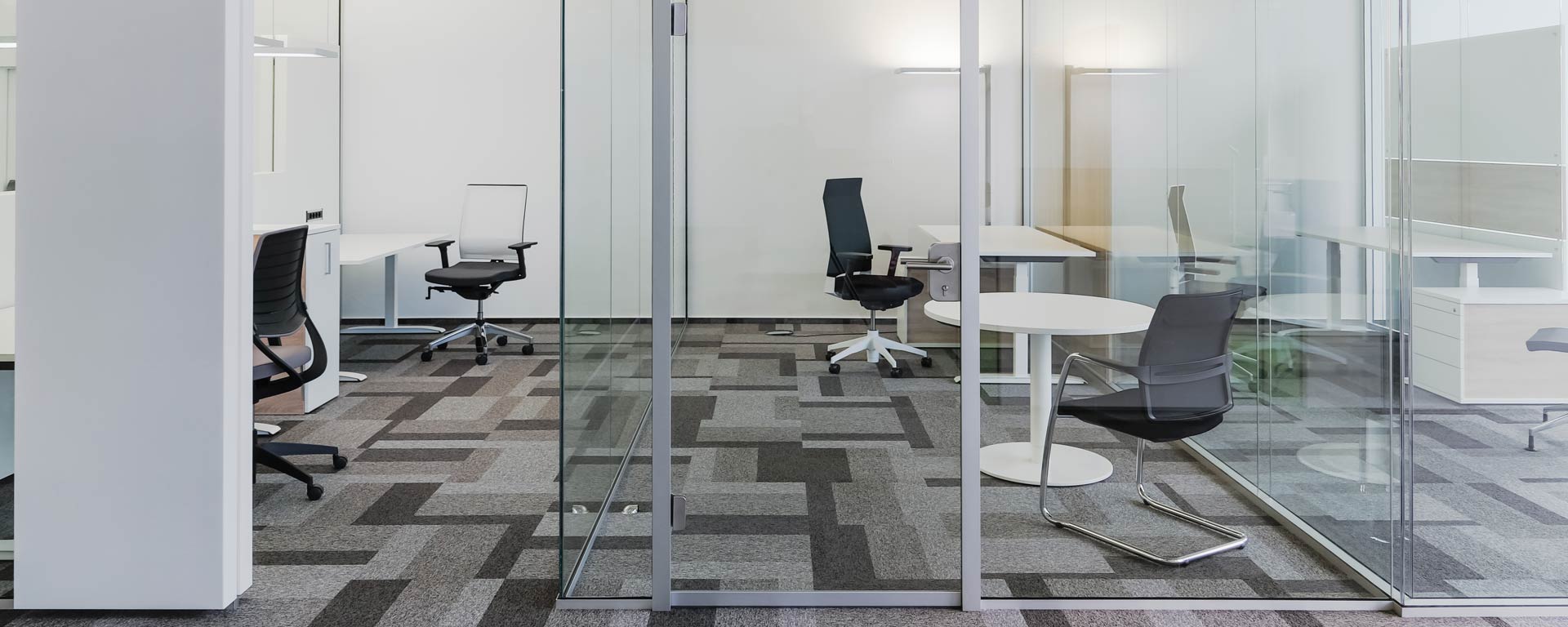 woodtec as a specialist for room systems since 1989
In 1989 the brothers Detlev and René Gemünden founded woodtec for the production of built-in cabinets. Today, woodtec produces space systems for the office at the Gau-Algesheim site. As a manufacturer, we specialise in the optimisation of acoustics and the spatial structuring of office space. Outstanding products are the office pod system vetroCUBE, the glass acoustic system silentUNIT and the glass wall system soloVETRO. In addition to the room systems, we offer office furniture, tables, cupboards, counters and special fixtures from our production. The package is completed by seating furniture, light objects, acoustic and floor systems from leading manufacturers. With the slogan "one office" we are your partner for all areas, from office space planning to moving in.
The vetroCUBE room-in-room system builds self-sufficient rooms, independent of the infrastructure of the building structure.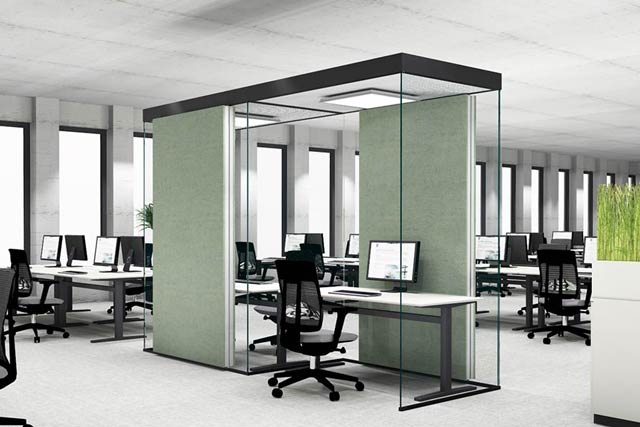 silentWORK is a free-standing acoustic screen that provides employees with their own acoustic environment.
The silentUNIT glass acoustics system optimises room acoustics without restricting transparency.
Offene Stellen / Kooperationen
Wir suchen bundesweit Montagepartner.
Unsere Systeme liefern wir bundesweit (auch EU weit aus). Die Montage wird durch geschulte Partner übernommen. Wir haben immer Bedarf an fachlich guten Montageteams.
Bitte bewerben Sie sich formlos über den unten stehenden Link.
jetzt bewerben
Wir suchen Mitarbeiter (m/w/d), gerne auch Berufseinsteiger mit nachhaltigem Interesse an Vertriebsaufgaben.
Nach gründlicher Einarbeitung werden Sie größtenteils im Außendienst tätig sein. Es werden aber auch Leistungen im Innendienst erwartet.
jetzt bewerben
Wir suchen eine(n) CAD erfahrenen Mitarbeiter(in) für die 3D Planung unserer Projekte, zur Unterstützung des Vertriebs. Du solltest Interesse am Umgang mit der EDV und Erfahrung im Umgang mit CAD Systemen haben. Nicht zwingend erforderlich aber begrüßenswert ist eine Vorbildung oder Erfahrung im Bezug auf Architektur, Innenarchitektur oder das Bauwesen.
jetzt bewerben
Open office spaces need acoustic optimisation
Large office spaces are in vogue and yet they are a cause for criticism. The open-plan office offers many advantages. It is said to offer better communication. Short distances in open space ensure fast processes. The clarity of the work space stands for transparent processes. At the same time, criticism of this open office culture is becoming loud. Users often complain about a high noise level. Above all, disturbing conversations and telephone calls from colleagues are complained of. There is often a lack of suitable retreat options for teamwork, meetings or even highly concentrated special tasks.
woodtec, as a manufacturer of acoustic room systems, starts exactly at this point. All of the company's products are aimed at the acoustic optimisation of open office areas. The room in room system vetroCUBE offers the necessary retreat possibilities, so-called office pods, in open space or large rooms. The glass acoustic system silentUNIT calms the work space with its sound screens. The acoustic quality of the products is at the forefront. The finely tuned package of room systems enables the optimisation of open office areas with regard to the containment of sound sources and with regard to the reduction of reverberation time and noise level.
The combination of these room systems and the individual adaptation to the user and his building ensures a sustainable acoustic optimisation of the office space.